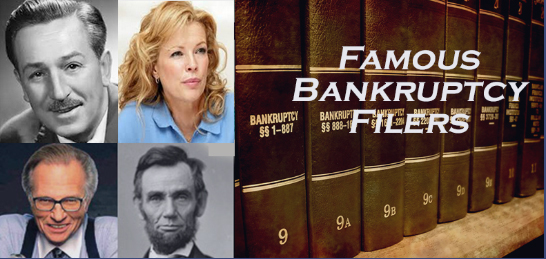 Famous Bankruptcies
U.S. Presidents and Other Political Figures
Abraham Lincoln
     16th President of the United States
Ulysses S. Grant
     18th US President; Civil War general, best-selling American Author, face is pictured on the US fifty dollar bill ( 1884 after          leaving office)
Robert Morris
     Politician who helped finance Revolutionary War
John Connally
     Former Texas Governor, wounded in 1963 Kennedy assassination in Dallas (1987)
James Wilson
     U.S. Supreme Court Justice 1789-1798
Philip II
     King of Spain, 1556-1598
Famous Artists, Athletes and Historical Figures
Rembrandt Haremenszoon Van Rijn, 1606-1669, the famous Dutch painter, accumulated more debt than he could repay. He filed for bankruptcy at age 50 in 1656 and many of his paintings and his home were sold at an auction. After bankruptcy, Rembrandt continued to paint but was prevented from selling his works directly to buyers.
Mark Twain, (Samuel Langhorne Clemens), 1835-1910, the great American author and literary figure filed for bankruptcy in 1894 and discharged all his debts. He lost money investing in a worthless machine, the Paige Compositor which was supposed to be an automatic typesetting machine. Twain was determined to repay those debts, and he knew he could earn money giving lectures to large audiences. He traveled to Europe and spent four years lecturing in major cities. Twain used some of the proceeds from these lectures to repay his debts. He also wrote several of famous books after declaring bankruptcy, including Pudd'nhead Wilson andFollowing the Equator.
Mathew Brady, 1823-1896, the famous Civil War photographer, filed for bankruptcy in 1872. After the Civil War, people lost interest in his work and without that income he was unable to pay his business debts. A few years after he filed for bankruptcy the United Stated War Department purchased part of his photography collection for $25,000.00. Brady was then able to reopen his gallery and attracted new clients for his work.
Henry John Heinz, 1844-1919, the condiment magnate and manufacturer, began his company in 1869. He sold horseradish, pickles, sauerkraut and vinegar. In 1875 his company filed for bankruptcy after an unexpected bumper harvest caused the company to be unable to keep up with its payroll obligations. He promptly started a new company introducing a new condiment, tomato ketchup, to the market and his new company was, and continues to be, very prosperous.
Oscar Wilde, 1854-1900, the famous poet and author, was forced into bankruptcy near the end of his life. He had been convicted of homosexual activity, which was illegal in England at that time. Wilde was sentenced to two years in prison at hard labor. The Court declared him a bankrupt in November 1895. His property was auctioned off.
Milton Hershey, 1857-1945, the founder of the famous Hershey's chocolate, formed four candy companies, each of which failed and filed bankruptcy. Later he started the company that is now Hershey's Foods Corporation. Mr. Hershey had a 4th grade education, but he was certain the public would want to purchase his chocolate. After failing four times, and no doubt learning much along the way, his fifth attempt was stunningly successful.
Henry Ford, 1863-1947, the automobile manufacturer famous for the assembly line, formed two automobile manufacturing companies that failed. His first automobile company filed bankruptcy and his second company ceased operations after a disagreement with his business partner. At age 40, he started a third company, the Ford Motor Company, with $28,000. By July 1903 his start-up funds were down to $223.65, but when Ford sold its first car the course of history changed.
Mickey Rooney, 1920-2014, famous movie actor, blamed alcohol and gambling for financial problems he had in the early 1960's. Rooney owed the IRS $1.75 million. He filed for bankruptcy in 1962. After his bankruptcy he continued his acting career and starred in many roles in movies and TV.
Johnny Unitas, 1933-2002, the Hall of Fame NFL football quarterback, had luck as bad in business as it was good on the field of play. Unitas' business ventures included bowling alleys, real estate deals and restaurants and were unsuccessful. Unitas filed for Chapter 11 bankruptcy in 1991. Other football players who filed for bankruptcy include Tony Martin, Lawrence Taylor and Michael Vick.
Kim Basinger, 1953- , the famous actress, used some of the considerable money from her movies to purchase the town of Braselton, Georgia. After buying the town she was sued for breach of contract for pulling out of the movie, Boxing Helena. Basinger could not pay the damages resulting from the lawsuit suit and filed for bankruptcy in 1993. Braselton was sold as part of her bankruptcy. Later, Basinger won an Oscar for her role in the movie L.A. Confidential.
MC Hammer (Stanley Burrell) 1962- , the famous rapper, musician, dancer and entertainer, filed for Chapter 11 bankruptcy in 1996 after his income declined and he became unable to pay for his lavish lifestyle and defend several lawsuits filed against him.
Walt Disney, 1901-1966, the famous cartoon creator and businessman, had Laugh-O-Gram, his first studio file for bankruptcy in 1920 after his main client of his new business filed bankruptcy. In 1923 Disney formed a new company using a loan from his parents and his brother. In 1928 Disney created "Mickey Mouse" and, as they say, the rest is history.
Larry King, 1933-, the famous talk show host, filed for bankruptcy in 1978. However, he later went on to a storied career in broadcasting.
Donald Trump, 1946-, famous businessman and entertainer, caused his casino empire to file a Chapter 11 bankruptcy in 2004 to reorganize the business. Prior negotiations with the businesses' creditors failed.
Mike Tyson, 1965-, the famous professional fighter and celebrity, filed a Chapter 11 case in August 2003 after becoming unable to pay his bills.